Siluro GeForce2 MX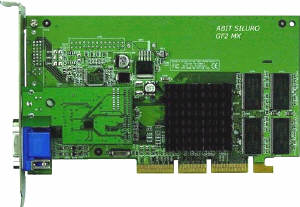 最佳的多媒体组合:
. 使用 NVIDIA's 最新的256-bit GigaTexel GPU, the GeForce2 MX processor
. HyperTexel architecture拥有每秒 4 texels 速率
. 175MHz 核心时脉, 166 MHz SDRAM 时脉
. 整合 350MHz RAMDAC,分辨率高达 2048x1536, True Color @ 60Hz
. 20M Triangles/sec 透过 T&L 和 Set-up, 700-Mtexel fill rate
. 2 dual-texturing pipelines, mapping 4 texels/clock cycle
. 支持4X AGP 和快写功能/兼容AGP 2X
. 完全3D加速器 Microsoft DirectX 7.x, beta DirectX 8和 OpenGL 1.2 ICD
. 支援DirectX Texture Compression
. Vivid NTSC/PAL TV-Output with flicker filter
. Digital TwinView display architecture,支持多重显示
第二代GPU 架构:
. 100% 硬件三角设定
. 新的 3D 特色: 每一个像素阴影和采光都拥有丰富生动的材质和效果
. 第二代Hardware Transform & Lighting Engine
. Per-pixel Shading: nVIDIA Shading Rasterizer (NSR) featuring
高品质 TV/Video 输出和 DVD 拨放功能:
. 支援 TV: NTSC和PAL TV输出在 640x480 和 800x600
. 高质量的视讯处理器 (HDVP) 针对全屏幕,全页的视讯HDTV和DVD拨放功能
TwinView Architecture:
. 双重和独立显示控制
. 双重和独立支持 RGB 屏幕和 TV 输出
Siluro GF2 MX
The Ultimate Game Accelerator for Mainstream PC
ABIT Siluro GF2 MX, powered by nVIDIA's new GeForce2 MX GPU is not only close to the GeForce2 GTS's unprecedented performance and visual realism to 2D, 3D gaming, and MPEG I, II playback, but also implement the world's most complete digital processor with advanced Digital Dual Display (D3) architecture. With it's full features like T&L (Transform & Lighting), Per-Pixel Shading, FSAA (Full Screen Anti-Aliasing), DXTC (Texture Compression), achieved through integrating GeForce2 GTS's breakthrough 3D architecture, in a 2-pipe form, together with 32MB SDRAM, you will experience powerful and more realistic 3D world.
The standard shipment Siluro GF2 MX comes with 32MB SDRAM display memory and optionally with TwinView displaying in CRT monitor and TV set.
The Great Engine Available for Multimedia Application:
Incorporates NVIDIA's latest 256-bit GigaTexel GPU, the GeForce2 MX processor
HyperTexel architecture with. 4 texels per clock
175MHz core clock, 166 MHz SDRAM clock
Integrated 350MHz RAMDAC, resolution up to 2048x1536, True Color @ 60Hz
20M Triangles/sec through T&L and Set-up, 700-Mtexel fill rate
2 dual-texturing pipelines, mapping 4 texels/clock cycle
4X AGP with Fast Writes/AGP 2X compatible
Full acceleration for Microsoft DirectX 7.x, beta DirectX 8, and OpenGL 1.2 ICD
DirectX Texture Compression support
Vivid NTSC/PAL TV-Output with flicker filter
Digital TwinView display architecture, supporting simultaneous dual display
Second Generation GPU Architecture:
100% hardware triangle setup
New 3D features: per-pixel shading and lighting for rich, lifelike materials and cinematic effects
2nd Generation Hardware Transform & Lighting Engine
Per-pixel Shading: nVIDIA Shading Rasterizer (NSR) featuring
High Quality TV/Video Output and DVD Playback:
Supporting TV: NTSC and PAL TV output in 640x480 and 800x600
High Definition Video Processor (HDVP) for full-screen, full-frame video playback
TwinView Architecture
Simultaneous and independent dual-display control
Simultaneous and independent support RGB Monitor and TV output