Model NO.V-9880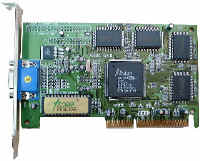 Supports AGP 2X signal with side-band support.

High-performance rCADE3D
Accelerator
Sigle cycle Pipelined engine
Multiple Levels of Detail (LOD)
1/16fh Sub-pixel color rendering
23-bit Color rendering
Perspective Correct Texture.
Direct 6 Texture Compression & Anisotropic Filtering
4K bytes Texture Cache
32bit IEEE Floating Point Input Data
Goruard and Flat Shading
16bit Z-buffer
Accelerates the most frequently used 2D GUI/video operations
8/15/16/124/32bit per pixel colors formats
256 Raster Operations
Memory size:64 bit 125Mhz SGRAM/SDRAM with 4/8Mbytes memory.
RAMDAC speed up to 230Mhz
Supports VESA Display Power management Signaling (DPMS) and VESA DDC 2b standards available on most of the VGA, SVGA and multisync monitor.
Trident Hardware - Assisted MPEG-2 & AC - 3 support.
Support DVD 1.0, VCD 2.0 and CD-Karaoke
Supports the standard IBM Feature
Connector (FC)
Contains drivers for the most popular operating systems and software
Resolution and Color Selection
Supports up to 1024⊙768 in 16, 256, 32k, 64k and 16M colors non-interlaced and refresh rates up to 120hz or 160Hz
Supports 1280⊙1024 in 16, 256, 32k and 64k colors non-interlaced and refresh rates up to 100Hz
Supports 1600⊙1200 in 16, 256, 32k and 64k colors non-interlaced and refresh rates up to 85Hz