Prophetview 720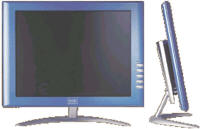 技术数据
最新 TFT-3G 科技
- 大小 (可观尺吋):
15?(38.1 cm) 305 x 230 mm
等同 17?Tube 显示器.

- 显示
Active Matrix Color TFT LCD 屏幕

- 支持分辨率:
1024 x 768

- Pixel Pitch (H x V):
0.29 x 0.29 mm

- 显示颜色
True colors

- 光度 (Typical):
230 Cd/m?

- 对比度 (Typical):
300 : 1

- 反应时间 (Tr/Tf):
< 30 ms

- 可视角度( H/V)
+130 度
最高享受
控制:
数码钛按钮
On screen Display adjustment (自动调较)
自动调教画面
720 x 400 (DOS) : 70Hz
640 x 480 : 60Hz, 72Hz, 75Hz, 85Hz
800 x 600 : 60Hz, 72Hz, 75Hz, 85Hz
1024 x 768 : 60Hz, 70Hz, 75Hz, 85Hz
 
输入
- 高层面支持:
适合所有显示卡

Signal Level:
RGB Analog 0.7 Vpp / 75 ohm

- 同步进行:
H/V 分开 (TTL)

- VGA 电线:
Un-detachable mini Sub-D 1.8m cable PC99 color

- PC:
对应所有显示卡

- MAC:
适合所有显示卡 (需要连接器但没有提供)
 
功率
- 水平 Scan:
30-75 KHz

- 垂直 Scan:
50-75 Hz
联系
Plug & Play; DDC1/2B (Windows 95/98/NT/2000)
支柱
- 设计:
回力镖

- 颜色:
钛

- 移动角度:
20 度

- 移动前角度:
5 度
安全系统
- Safety :
IEC950, UL1950, CSA, TUV-GS
CE-LVD (Low Voltage Directive)

- EMC:
FCC Class B, CE
大小 / 重量
大小: 378 x 285 x 20 mm
重量: 3.5 Kg (Set), 4.5 Kg (Box)
The Hercules Prophetview 720 is a high quality 15-inch LCD monitor featuring a large display area, similar to a 17" tube monitor. It is compatible with all VGA graphics boards and functions at a recommended resolution of 1024 x 768 pixels for games and multiple window applications. The monitor's enhanced high contrast and brightness settings provide you with optimal visual comfort.
Style and Technology Rolled Into One
With it's slender ultra flat design, futuristic boomerang base, and fashionable blue color, the Prophetview 720 is a stylish work of art. Furthermore, Hercules' Prophetview 720 takes up less desk-space than other monitors, features ultra-low power consumption, is lightweight and complies with the highest safety regulations. Prophetview 720, the new standard in ultra-flat screens, is the perfect LCD monitor for both home and business use.
The Hercules LCD 15" Prophetview was launched at E3 which took place between 17th - 19th of May, 2001. Following the tragic events that took place in the USA on September 11th, the photo of Manhattan on the product packaging was changed as soon as it was technically possible to do so, i.e. in time for delivery of the next batch.