738S1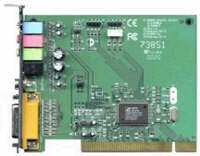 Special Features
PCI Plug and Play (PnP) bus interface,32 bit PCI bus master
 
Full duplex playback and recording,built-in 16 Bit CODEC.
HRTF 2D positional audio,supports both DirectSound 3D(R) & A3D(R) interface,supports earphones,two and four channel speakers mode.
Support Windows98/WindowsME and Windows NT 4.0.
Built-in 32 OHM Earphone buffer.
MPU-401 Game/Midi port and legacy audio SBpro support.
DownloadableWave table Synthesizer,supports Direct Music(R).
Drivers support AC3 5.1CH interface.
Karaoke function can choose."Vocal/Music Mixing""Music Only""Auto-Vocal Playback""Pitch Key Up""Pitch Key Down""Reset Pitch Key".
Multi-choose in Sound Effect & Equalizer.
Digital Audio (SPDIF IN/OUT)
Up to 24 bits stereo 44KHz sampling rate voice playback/recording.
Full duples playback and recording,120dB audio quality measured.
Auto detectable SPDIF/IN signal level from 0.5V to 5V
 
Stereo Mixer
Stereo analog mixing from CD-Audio,Line-in.
 
Stereo digital mixing from Voice,FM/Wave-table,Digital CD-Audio.
Mono mixing from MIC and software adjustable volume.
Game and Midi Interface
Fully compatible with MPU-401 Midi UART and Sound Blaster Midi mode/Standard IBM PC joystick/game port (dual channels)