AG080T8-64

GRAPHICS CARD

Have fun with infinite 3D effect

Fully supports DirectX8.1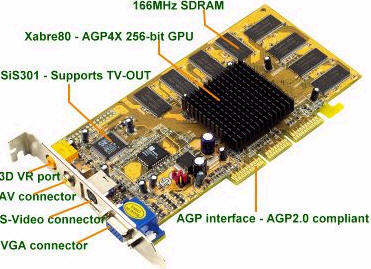 DirectX 8.1
One of the big improvements of DirectX 8.1 is the Pixel Shader function, which does not exist in the DirectX 7 graphics card. With the hardware Pixel Shader, you can see how the light effect on the surface vividly. This superior technology is prepared for the future advanced 3D games.
Specification
GPU: Xabre 80 AGP4X 256-bit Graphic Accelerator
Engine Clock: up to 166MHz
Display Memory: 166MHz SDRAM, 64MB onboard
AGP Bus Interface: AGP 2.0 compliant, supports AGP4X mode
RAMDAC: up to 375MHz pixel clock.
DirectX: Supports DirectX 8.1, Pixel Shader Ver.1.3
I/O Ports: VGA, 3D VR Glasses, AV & S-Video connectors
Board Size: 174x93mm
Compatible System: Windows XP/2000/ME/98SE
Bundled Software: WInDVD