CaptureTV M200
Watch TV on your PC - in a Window or Full Screen! Cable TV and Antenna input supported.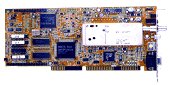 An infrared Remote Control is included, optional MPEG-1, Closed Caption and Teletext modules also available.
Image capture function for storing video frames as graphics files
Remote Control allows TV-like operation, switching between PC and TV mode and more!
Works with external Loopback connector - no VGA feature connector required
TV Systems supported:
Video Inputs:
Internal TV Tuner
Composite Video Connector (RCA-Type)
S-Video Connector
Software support:
DOS TSR allows PC/TV mode switching
Windows 3.1/95
Autoscan function configures local TV channels