CaptureTV M250
An all-in-one Multimedia Video, TV and Graphics Acceleration Solution.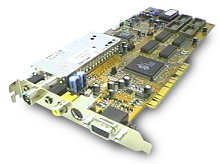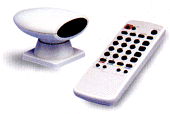 If you're looking for the ultimate Multimedia controller solution, you've found it! The CaptureTV M250 is like three cards in one

 

A High Performance ATI Graphics Accelerator - Based on the ATI 3D RAGE II 64-Bit Graphics Chip, the M250 features eye-popping Windows 95 video acceleration.

A PC TV Tuner Card - Transform your PC into a unique "intelligent" TV System! Channel surf, create your own TV program transcripts and even pre-program your favorite TV shows. Includes Remote Control!

A Full-Motion Video and Still Image Capture and Video Playback device!
32-Bit PCI Local Bus PnP 2.1 Compliant
ATI 3D RAGE II 64-Bit Graphics Accelerator w / 2MB EDO DRAM / 135Mhz 24-Bit True Color RAMDAC
Maximum Display Resolutions of 800x600 with 16.7M Colors, 1024x768 with 64K Colors and 1280x1024 with 256 Colors
Display refresh rates up to 120Hz
Video Sources supported: TV Tuner, Composite Video and S-Video
Closed Caption for NTSC and Optional Teletext for PAL
Remote Control Included
Software: ATI Player (TV Tuner, MPEG Playback, Full-Motion and Still Image Capture, Video Playback)
Drivers: Windows 3.1, Windows 95, Windows NT, AutoCAD, Microstation, OS/2
Video Accelerator:
ATI 3D RAGE II +DVD
Refresh rates to 120Hz
2MB EDO DRAM - Expandable to 4MB
TV RF connector:
Audio Line Out:
Mini Jack
Internal CD-ROM Type connection
VGA Monitor Out:
15-Pin Dshell IBM Standard
Video Sources supported:
TV Tuner
Composite Video
S-Video
TV Systems supported:
Dimensions: