VIA P4PB 266E Mainboard
Bringing 533MHz FSB and USB 2.0 Support to the Pentium® 4 Platform
The P4PB 266E offers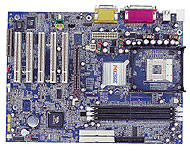 the performance and feature set necessary to stay abreast in today's dynamic computing environment. Based on the VIA Apollo P4X266E chipset, the successor of the highly acclaimed Apollo P4X266A, the P4PB 266E mainboard features 533MHz front side bus support for the latest high-speed Intel® Pentium® 4 processors and the rich 2D/3D graphics performance of AGP4X, as well as supporting today's "must have" features such as DDR266 SDRAM memory, USB 2.0, 6 channel audio, and ATA/133.
The P4PB 266E's six USB 2.0 ports provide seamless connectivity to all the latest high speed multimedia devices and peripherals such as digital video cameras, MP3 players, and the next generation of scanners and printers while also providing backwards compatibility with the more established USB 1.1 standard devices.
An onboard VIA VT1616 audio codec provides six channels of studio quality, crisp, digital surround sound and supports both optical and SPDIF outputs. The P4PB 266E is bundled with a S/PDIF connector bracket that fits neatly into any available PC chassis I/O expansion slot. The S/PDIF brackets enables digital to digital signal transfers between devices thus eliminating the signal degradation associated with traditional analog audio.
An onboard Smart Card connector enables easy implementation of PC Smart Card reader solutions. Smart Card solutions offer businesses, government, and individuals the highest level of security for applications such as online transactions, credit cards, electronics cash and identification cards. Smart Card implementation continues to grow as organizations continue to move towards storing and releasing information via networks, Intranets, extranets and the Internet.
The VIA P4PB 266E full featured ATX form factor layout offers unsurpassed scalability, with three DDR SDRAM DIMMs, five PCI, one AGP, and a CNR slot. The VIA P4PB 266E is also bundled with FliteDeck?, the extensive system management suite that enables advanced features such as overclocking, system monitoring and BIOS updates and comprises four utilities, MissionControl, JetStream, FlashPort, and SysProbe.
 
VIA P4PB 266E Specifications
Bringing 533MHz FSB and USB 2.0 Support to the Pentium® 4 Platform
Processor
- Intel® Pentium® 4, Celeron® Processor
- 533/400MHz Front Side Bus
Chipset
- VIA Apollo P4X266E North Bridge
- VT8235 South Bridge
System Memory
- 3 DDR266 DIMM sockets
- Up to 3GB
Expansion Slots
- 1 AGP 4X slot ( 1.5V Support )
- 5 PCI slots
- 1 CNR slot
Onboard IDE
- 2 x ATA133/100 Connectors
Onboard FDD
- 1 x FDD Connector
Onboard Audio
- VIA VT1616 6 Channel AC'97 CODEC
Onboard IEEE 1394
- VIA VT6306 IEEE 1394 (Optional)
On Board I/O
- 2 USB 2.0/1.1 Connectors for 4 Additional Ports
- 1 Audio pin-header for SPDIF (Optical & RCA), Rear, Sub/Center
- CD Audio-in Connector
- AUX-in Connector
- Voice Modem Connector
- IR Connector
- Wake-on-LAN, Wake-on-Ring
- CPU/Power/Sys FAN
- 20-pin ATX Power, 4-pin ATX AUX 12V Power
- 1 x Buzzer
- 1 DIP Switch for 100/133/Auto FSB Setting
- System Intrusion Connector
- Smart Card Reader Connector
Back Panel I/O
- 1 PS2 mouse Port
- 1 PS2 keyboard Port
- 1 RJ 45 100/10Mb LAN Port
- 2 USB 2.0/1.1 Ports
- 2 Serial Ports
- 1 Parallel Port
- 3 Audio Jacks: line-out, line-in and mic-in
- 1 Game/MIDI Port
BIOS
- Award BIOS, STR, ACPI, WfM 2.0, DMI 2.0
- 2/4Mbit Flash Memory
Applications
- VIA FliteDeck™ System Management UtilityMissionControl-H/W Monitoring, Remote SNMP ManagementJetStream-Overclocking Optimized UtilityFlashPort-Live BIOS FlashSysProbe-Live DMI Browser
Overclocking
- 100MHz up to 200MHz adjustment by 1MHz Increments
- Tunable Vcore/Vdimm/Vagp
- BIOS Overclocking Auto-Recovery
System Monitoring & Management
- CPU Temperature Monitoring
- CPU Voltage Monitoring
- Wake-on-LAN, Wake-on-Ring, Keyboard-Power-on, Timer-Power-on
- System Power Management
- AC Power Failure Recovery
Form Factor
- ATX (4 layers)
- 30.5cm x 22.5cm