VIA P4PB400
P4PB400-FL (带有两个IEEE1394接口)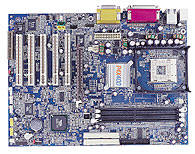 P4PB400-L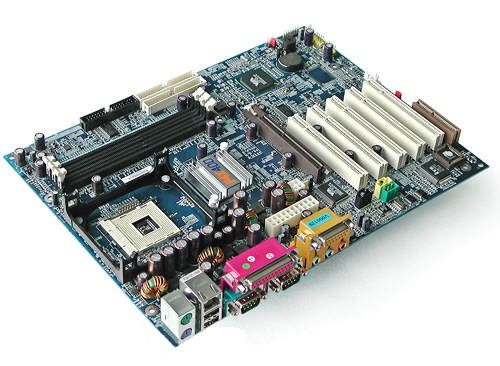 P4PB 400主机板充分发挥了威盛电子最先进的芯片组的性能,并展示了北桥芯片Apollo P4X400、南桥芯片VT8235强大的运算能力和联结功能。其系统特性包括支持AGP 8X和533MHz的前端总线,透过运用业内最先进的内存控制器,可以在使用DRR333 SDRAM的情况下?PentiumR 4处理器提供高达每秒2.7GB的传输速率。P4PB 400卓越的连接功能包括完整的USB 2.0/1.1, IDE ATA133, 内建的IEEE 1394, 10/100M以太网络卡, 和一个Smart Card连接设备。

主机板上内建的VIA VT1616音效芯片可以提供专业水准的6声道数字环绕音效,并同时提供光纤、S/PDIF方式的音效输出。另外,威盛P4PB 400主机板提供了一个可以适用在任何标准PC主机板上的S/PDIF扩充卡。此S/PDIF扩充卡可避免传统模拟讯号转数字讯号的衰减,以实现数字设备之间的无损失数据转换。P4PB 400主机板的网络功能是透过内建的VIA VT6105M 10/100M以太网络芯片。VIA VT6105M是威盛电子最先进的网络芯片之一,其特性包括网络唤醒、远程启动和复合VLAN、先进的网络应用、保安和更简单的网络管理。另外P4PB 400主机板内建的VIA VT6306 IEEE 1394控制芯片和完整的USB 2.0功能,可以使得其支持最先进的高速多媒体设备,诸如数字摄影机、MP3播放器和打印机等。VIA P4PB 400主机板符合完整的ATX主机板规格尺寸,提供3个DDR SDRAM插槽、5个PCI插槽、1个AGP插槽和1个CNR插槽。VIA P4PB 400主机板同样提供FliteDeck?,一个应用广泛的系统管理工具软件集,提供多种尖端功能诸如超频、系统监测、BIOS更新等功能 。
处理器
- Intel® Pentium® 4 Processor (478-pin)
- 533/400MHz Front Side Bus
芯片组
- VIA Apollo P4X266A 北桥
- VT8233A 南桥
系统内存
- 3 DDR266 DIMM sockets
- Up to 3GB memory size
扩充槽
- 1 AGP4X slot (supports 1.5V and 3.3V AGP 1X/2X/4X cards)
- 6 PCI slots
- 1 CNR
音效芯片
- VIA VT1612A AC'97 2 channel CODEC
1394芯片
- VIA VT6306 IEEE1394(选购)
输入/输出
- 2 USB 2.0/1.1 Connectors for 4 Additional Ports
- 2 IEEE 1394 Ports (Optional)
- 1 Audio pin-header for SPDIF (Optical & RCA), Rear, Sub/Center
- CD Audio-in Connector
- AUX-in Connector
- Voice Modem Connector
- IR Connector
- Wake-on-LAN, Wake-on-Ring
- CPU/Power/Sys FAN
- 20-pin ATX Power, 4-pin ATX AUX 12V Power
- 1 x Buzzer
- 1 DIP Switch for 100/133/Auto FSB Setting
- System Intrusion Connector
- Smart Card Reader Connector
- 1 PS2 mouse Port
- 1 PS2 keyboard Port
- 1 RJ 45 100/10Mb LAN Port
- 2 USB 2.0/1.1 Ports
- 2 Serial Ports
- 1 Parallel Port
- 3 Audio Jacks: line-out, line-in and mic-in
- 1 Game/MIDI Port
BIOS
- Award BIOS, STR, ACPI, WfM 2.0, DMI 2.0
- 2/4Mbit Flash Memory
系统监控/管理
- CPU/系统温度监测
- CPU电压监测
- CPU/机箱风扇速度监?br> - 键盘启动模式,设定时间启动模式
- 系统电源管理
- AC电源故障恢复
- 基于WindowsR的 H/W监视器
应用程序
- VIA FliteDeck™ System Management UtilityMissionControl
-H/W Monitoring, Remote SNMP ManagementJetStream
-Overclocking Optimized UtilityFlashPort
-Live BIOS FlashSysProbe
-Live DMI Browser
超频
- 100MHz up to 200MHz adjustment by 1MHz Increments
- Tunable Vcore/Vdimm/Vagp
- BIOS Overclocking Auto -Recovery
IDE界面
- ATA 133/100/66/
- 2 IDE connectors
主机板规格
- ATX (4 layers)
- 30.5cm x 22.5cm
The P4PB 400 fully exploits the performance and connectivity capabilities of VIA's most advanced chipset combination, the Apollo P4X400 North Bridge and VT8235 South Bridge. Performance features includes AGP 8X and 533MHz FSB support, as well as the industry's fastest memory controller, providing the PentiumR 4 with up to 3200MB/sec of fast DDR/400333 SDRAM memory. The P4PB 400's unsurpassed connectivity features includeintegrated USB 2.0/1.1, IDE ATA/133, onboard IEEE 1394, 10/100 LAN, and a Smart Card connector.
An onboard VIA VT1616 audio chip provides six channels of studio quality, crisp, digital surround sound and supports both optical and SPDIF outputs. The P4PB Pro is bundled with a SPDIF connector bracket that fits neatly into any available PC chassis I/O expansion slot. The SPDIF brackets enables digital to digital signal transfers between devices thus eliminating the signal degradation associated with traditional analog audio.
Network connectivity is provided through the onboard VIA VT6105M 10/100Mbps Ethernet LAN chip. The VT6105M is VIA's most advanced LAN chip featuring Wake-on-LAN, remote bootability and multiple VLAN, resulting in increased system performance, security, and easier network management.
The onboard VIA VT6306 IEEE 1394 chip and integrated VIA USB 2.0 enables seamless connectivity to all the latest high speed multimedia devices such as digital video cameras, MP3 players, and printers.
The VIA P4PB 400 full featured ATX form factor layout offers unsurpassed scalability, with three DDR SDRAM DIMMs, five PCI, one AGP, and a CNR slot. The VIA P4PB is also bundled with FliteDeck?, the extensive system management suite that enables advanced features such as overclocking, system monitoring and BIOS updates and comprises four utilities, MissionControl, JetStream, FlashPort, and SysProbe.