P4XB-RA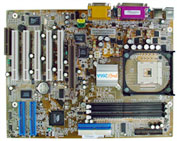 Combining support for 3GB high bandwidth DDR266 SDRAM with a host of high end features such as an onboard Promise PDC20265R IDE RAID controller, the VIA P4XB-RA mainboard provides the ultimate platform for building the highest performance 478-pin Intel® Pentium® 4 processor based systems, workstations, and servers.
Based on the highly acclaimed VIA Apollo P4X266A chipset, the VIA P4XB-RA features a 400MHz Front Side Bus and supports a complete range of 478-pin Intel® Pentium® 4 processors running at speeds of up to 2GHz and above. With three 184-pin DIMM sockets onboard, the VIA P4XB-RA can accommodate a maximum of 3GB DDR266 SDRAM delivering data transfers rates of up to 2.1GB per second. Overall performance is further enhanced by the VIA Apollo P4X266A's high speed V-Link bus, which doubles communication bandwidth between the chipset's North and South Bridge to 266MB per second.
With one AGP4X port, five PCI slots, and a CNR slot, the VIA P4XB-RA provides unsurpassed levels of scalability on an ATX form factor measuring 30.5cm x 22.5cm. In addition to onboard C-Media 6 channel audio, the board also comes with a full set of I/O ports as well as Ultra ATA-100 and Hardware Monitoring support.
 
VIA P4XB-RA Specification
High performance, feature rich VIA Apollo P4X266A chipset based ATX mainboard for the 478-pin Intel® Pentium® 4 Processor combining high bandwidth DDR266 SDRAM support with onboard RAID and 6 channel Audio support.
Processor
- Intel® Pentium® 4 Processor (478-pin) - 400MHz Front Side Bus
Chipset
- VIA Apollo P4X266A North Bridge
- VT8233 South Bridge
System Memory
- 3 DDR266 DIMM sockets - Up to 3GB memory size
Expansion Slots
- 1 AGP4X slot (supports 1.5V and 3.3V AGP 1X/2X/4X cards)
- 5 PCI slots
- 1 CNR Slot
Onboard Audio
- C-Media CMI8738 6 Channel Audio
I/O
- 2 USB ports (2 pin-headers for 4 additional external USB ports)
- 2 serial ports
- 1 parallel port
- 1 PS2 mouse port
- 1 PS2 keyboard port
- 1 game/MIDI port
- 3 audio jacks: line-out, line-in and mic-in
BIOS
- Award BIOS
- 2Mbit flash memory
System Monitoring & Management
- CPU/system temperature monitoring
- CPU voltage monitoring
- CPU/chassis fan speed monitoring
- Wake-on-LAN, Wake-on-Ring, Keyboard-Power-on, Timer-Power-on
- System power management
- AC power failure recovery
Onboard IDE
- ATA 100/66/33
- Up to 4 IDE connectors
- IDE RAID 0, 1 support provided by onboard Promise PDC20265R controller
Form Factor
- ATX (4 layers) - 30.5cm (12") x 24.5cm (9.64")